Poetry by Vivian Mary Carroll
---
Pony Rides
 
Is it chance or god hand
that strings 
              genetic beads
spins
              coded coils 
into a spirited 
             brown-and-white
Indian pony?
 
In a found photo 
a glum child 
             buckled in 
rides a painted pony
             plodding a circular rut.
She blinks at 
rhinestones flashing on
              a cowgirl shirt
lay-a-way forgotten. 
            
On a northern drive
two pastured horses 
                        one white
                        one brown
steal her eyes.
She sketches them
nostrils sunk into 
            juniper mash 
             cholla bud wine.
Rearing
            hooves crush
            a citrus sun.
 
At trail's edge 
his mane 
             blazed with sky
a pinto strikes at
             dust devils
ghosting up from
             San Lorenzo Canyon.
A woman shifts in
            the saddle.
 
---
Arroyo Tableau in Damp Sand
 
Hair pollen-tangled yellow
I sink hiking boots 
                         into rain erosion.
Sand    scoured wet by night flood
             clumps onto broken branches
                        skiffs toward the Rio Grande.
 
No contrails lattice the sky.
 
Reserve land yawns
behind three locked gates
             blinks an eye
                         shakes a seed pod
                         sheds pine needles.
 
Coffee aroma wisps from an open thermos.
 
Wet brushes blur images soft
             mountain pinons
                           tinted denim
            oak's craggy trunk 
                          mushroom brown
            gray finch toes
                         swaying thin ocotillo canes.
 
I breathe
              morning light 
                            mirrored upon damp paper
                           color bleeding.
---
Butterfly Crossing
 
Hurricane buffeted
             3,000 miles off-course
a figure-eight flutterer
             topples 
             on Dorset sand
orange scales
             pale
             still wings 
                         brittle.
 
I fly transatlantic,
            board two red buses
spy a brick house with
            iron-fence
            open bay windows 
            perfumed blossoms–
I don't stop.
You might not be home.
It might not be your house.
 
In a rented Mews flat
             I sip honey tea    slip
into cosmic dancer's skin,
             pose
                        back arched 
                        foot in hand,
balancing a
               butterfly's heart
                             floating 
              the length
             of me.  
 
Red petals part
             tongue tastes
             amber beads.
            
---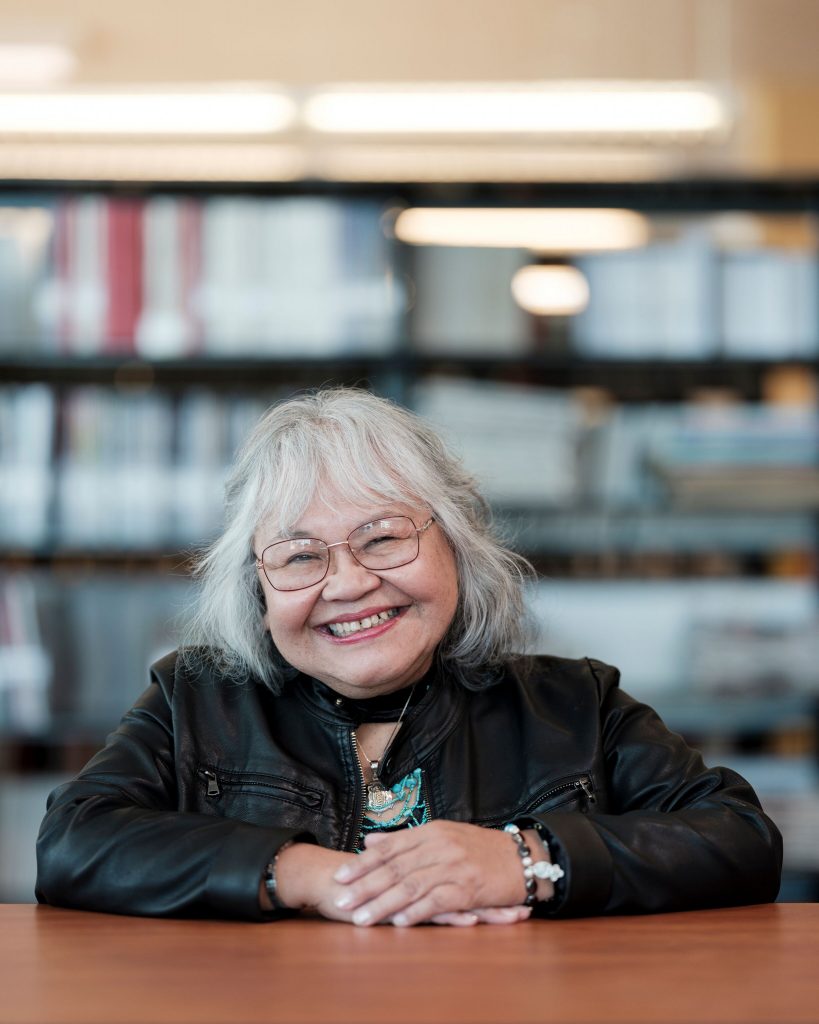 Vivian Mary Carroll (Cherokee Nation) earned her MFA in creative writing at the Institute of American Indian Arts. Her work appears in Yellow Medicine Review, Tribal College Journal, American River Literary Review, Sacramento Anthology: 100 Poems, and is forthcoming in Non-White and Woman: 131 Micro Essays on Being in the World, and New Mexico Poetry Anthology, Vol.1. Photo by Jason S. Ordaz, who is the official photographer for the Institute of American Indian Arts.
---