Flash Fiction by Frederica Morgan Davis
---
My daughters shop at Hot Topic. First it was Spencer's Gifts, for black-light posters, door beads, and lava lamps, as if making a transition from my womb to my college dorm. Now, they shop at Hot Topic. For God knows what. They wear knock-off Doc Martens, steal my Birkenstocks. I've warned the girls so many times: the sandal molds to the wearer's foot.
The girls want to go to the mall, want to wear make-up, want to shave their legs. They spend dark hours in movie theatres with Leonardo DiCaprio, Chris O'Donnell, Scott Wolf. They tape posters on their walls. They tape up girls, too: Fiona Apple, Gwen Stefani, Jewel. My mother worries about them taping up girls. I say, "It's inspiration for becoming women." My mother clucks. But she can't possibly be imagining our girls with girls, how far can her mind stretch?
The neighbor girl in the popular crowd invites my girls to Chesterfield Steakhouse before Homecoming. Kids go to Chesterfield's because it's the last restaurant with a cigarette machine: they don't have to show ID. Eavesdropping, I hear the neighbor girl say her ex-boyfriend had his hand up another girl's shirt all night at Chesterfield's. "At the table, right beside me. Cupping her boob." I tell the girls they can't go to Chesterfield's before Homecoming. They don't mean what they say to me in response.
The girls trick-or-treat. I say, "You're in junior high. Too old to trick-or-treat." They borrow uniforms from church friends, go as Catholic School girls. I pass out Snickers and Baby Ruths, the full size. They girls aren't going to collect candy; they're going to spend time walking in the dark with boys. They're more supervised than at the mall, so it's okay with me. I tell them: just don't get in any cars. With anybody.
Cars are my worst fear. The girls are bad drivers, their friends are bad drivers. They're more excited to play cassettes and CDs, to scroll through radio stations than to use their blinkers and mirrors. I tell them: I preset your favorites. Press 1 for WQBE hot country, 2 for v100, the best of the 70s, 80s, and today. Today is all they like. If we lived in a town with better radio maybe they'd fiddle less with CDs, fewer accidents resulting. I tell them: don't change CDs at stoplights, only when parked. Stoplights can be surprising.
The girls show a renewed interest in church, but it's because of boys. When the phone rings, deepening voices on the other end. Makes me as nervous as the cars. Good Lord, the combination breaks me. I remember what I did with boys in cars. Once, on the hood. My mother didn't talk to me about S-E-X. I would have listened. Her only advice: don't be alone with a boy, he'll say you did what he wanted even if you didn't and no one will believe you. What I took to heart: if they're going to say I did it anyway, might as well have a good time. And if he wanted it, didn't I? With my girls, I speak precisely. I say, "Don't unzip your pants and don't unzip his." I say, "Underage sex causes zits." I almost add, "on your privates." But zits are the number one fear in our household. I tell them when their aunt and I had pimples we named them after boys we liked. Now they shout down the hall, "Eww, look at the size of David Thomas!" and I know to be on the lookout for him. Our house fills with creams and potions and the girls spackle their faces with white dots and green globs to moisturize, to dry out, to conceal.
I never imagined this. I wanted to get pregnant, thought: babies, how cute. Smocked dresses and sailor suits. A tiny part of me outside me, breathing. Relying on me. I was ready for feeding and nursing and losing sleep, for not spending so much of my time at bars after work. I was a little afraid of PTA meetings, of making new parent friends, of swimming lessons. I considered whether I would pressure babies to get into good colleges or let them find themselves at hippie nature schools, in Colorado or the Pacific Northwest. Places I would have liked to have learned backcountry skills, tent pitching, emergency first-aid, alongside Chaucer, Basho, Rilke. I hadn't considered the in-between, parenting not quite adults. When they can't stand to be seen with me, but take my Birkenstocks without permission.
---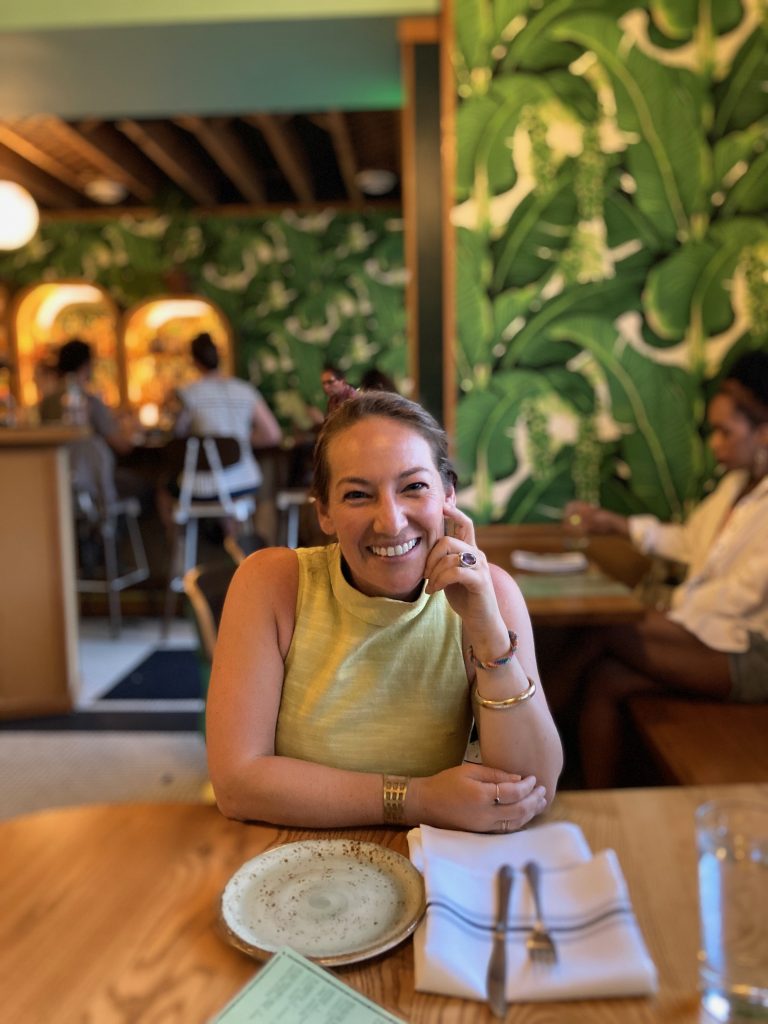 Frederica Morgan Davis is a far-flung West Virginian, living among the redwoods in Marin County, California. She serves as the prose editor for Shenandoah. She holds an MFA in Creative Writing from the University of North Carolina Wilmington, where she was a designer for Ecotone, worked for Lookout Books, and co-directed the Young Writers' Workshop. Her writing appears in storySouth, the Barely South Review, and Press Pause Press, and is forthcoming in The Normal School. She has twice been a work scholar studying songwriting at Esalen, and has studied creative writing at Tin House Summer Workshop, the One Story Writers Conference, and Bread Loaf Environmental Writers, where she will return as staff this summer. More of her work is available online: fredericamorgandavis.com.
"The Girls Shop at Hot Topic" was a CRAFT 2021 Flash Fiction contest, Honorable Mention (unpublished).
---